De Watergroep, the largest water company in Flanders and supplier of drinking water in 177 municipalities, is partnering with us, Suivo! This will automate the tracking of 860 vehicles owned by De Watergroep. It will also digitize the tracking of machines and tools. Through the digital tracking of its vehicles, machines and tools, the water company wants to optimize its work planning, maintenance, inspections, repairs and inventory. The contract has a term of eight years.
Suivo is equipping 860 passenger cars and about 80 pieces of larger rolling stock of De Watergroep with its geolocation hardware and a badge reader that connect to Suivo's cloud software. De Watergroep's technical staff will identify themselves with their employee badges whenever they use any of the vehicles, excavators, tractors, vans or trucks.
Drillers, ladders, compressors, augers and other tools from De Watergroep will receive a Hydrogen tag from Suivo. A mobile app from the company allows De Watergroep employees to view the location of the tools. They can also use it to send or receive a notification that a repair or maintenance is needed.
Efficiency
"Being aware in real time of the location and condition of vehicles, rolling stock and tools will allow our technical staff, team managers and support services to work more efficiently," says Sammy Wuyts, director of Business Support Services at De Watergroep.
"When an urgent intervention is needed somewhere, we will immediately know which employees and vehicles are closest to carry out the task and where the machines we need for it are located at that moment," states ICT project manager Cristina Orodel of De Watergroep. "Employees will be able to check how ecological their driving style is via a Suivo app on their smartphone when driving one of our company vehicles. If a repair of rolling stock or tools is needed, our employees will also be able to communicate this via a Suivo app on their smartphone. In the Suivo software we can indicate ourselves when maintenance and inspection of cars, rolling stock and tools must take place, for example after a certain number of kilometers driven or after x number of hours of use. The person responsible then receives an automatic notification.
‍This reduces the chance of errors and eliminates manual work, so we can spend that time on other tasks."
The contract with Suivo includes the leasing of its hardware, a subscription to its software, the Suivo smartphone apps and training for De Watergroep employees who use the system. De Watergroep now tracks all cars for its technical staff, rolling stock and tools in an automated way.
Sustainability
"This project fits completely into our core business. De Watergroep will use our three product families Oxygen, Hydrogen and Carbon," says managing partner Peter Geldhof of Suivo. "By connecting objects in the Internet of Things, we allow companies to work more efficiently at a lower cost. When employees drive ecologically, the overall CO2 emissions of the company's fleet are reduced.
When you maintain your equipment in a timely manner, it remains safe to use and lasts longer. If you also have a real-time view of the location of your tools, you avoid wasting time looking for them and also avoid unnecessary extra orders. In this way we contribute to a more sustainable economy where you use resources wisely. We are proud that De Watergroep has chosen us and our approach."
CEO Hans Goossens of De Watergroep concurs. "Caring is one of our core values. We take care of the resources used, pay attention to safety and our environment, and work in a cost-conscious manner. These are not empty words and this large-scale project of automated follow-up fits in that framework. With Suivo's new technology, we will take further steps forward in terms of sustainability, efficiency and cost awareness. This investment shows that corporate social responsibility can go hand in hand with operational and financial benefits."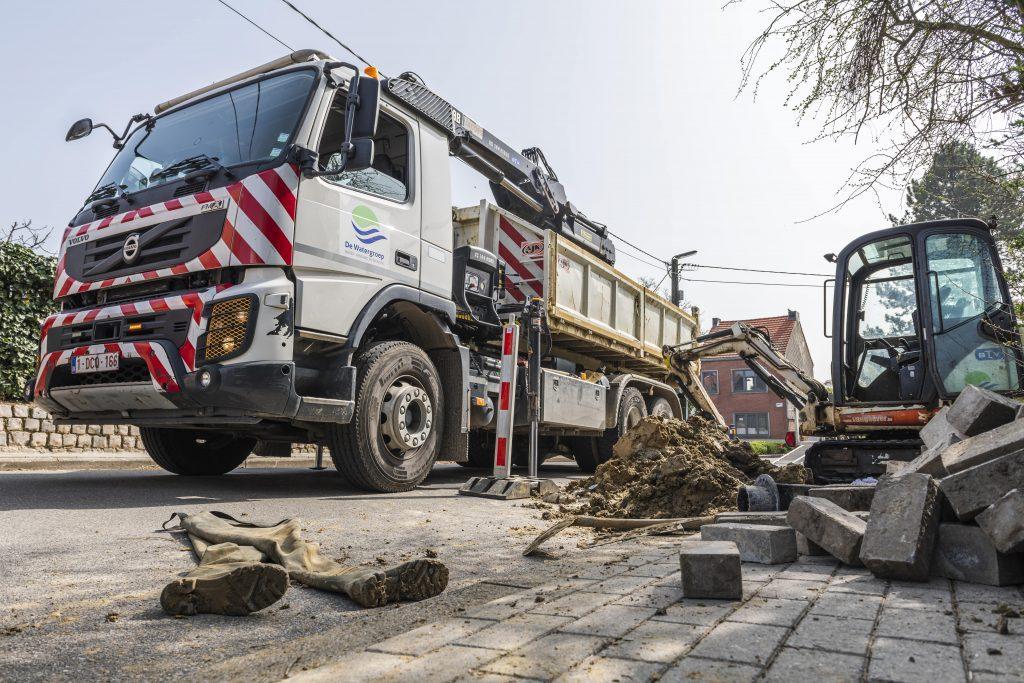 About De Watergroep
De Watergroep is an integrated water company that provides services within the entire water chain. Through a network of over 34,000 kilometers of pipes, it serves 3.3 million household customers in 177 Flemish municipalities in West and East Flanders, Flemish Brabant and Limburg. This makes De Watergroep the largest drinking water company in Flanders. De Watergroep has 85 groundwater reclamations and 5 surface water reclamations, together good for a drinking water production of 132 million m³ in 2020. De Watergroep is also a partner in the development of municipal sewerage networks and supplied more than 9 million m³ of tailor-made industrial water to industrial customers in 2020. De Watergroep selects a sustainable and suitable water source (such as river water, rainwater or effluent from an industrial water treatment plant) at the location of these customers and converts it to the desired final quality.
More info: De Watergroep