Since 2018, water-link has been working with Edegem's technology company Suivo to map and track all vehicles, machines and tools. The assets are equipped with a tag, a sensor or a tracker that captures data (location, running hours, kilometers, etc.) via intelligent positioning and makes it digitally available in the Suivo IoT Cloud Platform. Water-link thus receives accurate information that was previously not available or not centralized. Where are the assets located? How long are the vehicles idling? Are the assets being used? … These insights lead to transparency, optimization and increased efficiency.
Smart link with Vinçotte
In early 2021, water-link decided to deploy Suivo more broadly and start doing even more extensive Asset Management. Because approximately 2600 assets are periodically inspected by Vinçotte, water-link first examined whether efficiency gains could be achieved there. It quickly became apparent that a lot of administrative time could be saved through a smart link with the MyVinçotte environment. This link makes it possible to follow up on inspections more accurately and to ensure that comments are managed. This is a great advantage for the safety of the water-link employees.
Data matching via an API
Step by step, the new partnership took shape. First the databases of water-link and Vinçotte had to learn to communicate with each other in the same language. It is important that the data and names of the assets in both databases are defined and structured in the same way. Data quality is crucial in this project.
Data matching and database integration are done via an API, as is communication with the Suivo web platform. What water-link uploads into the Suivo IoT Cloud Platform is the 'master' data. Vinçotte may only approve assets that are known in water-link's database. Water-link is 'owner' of the data, Vinçotte remains responsible for the result of the inspections. Every night the Suivo API does a check of the MyVinçotte web application to see which inspections have taken place that day. The inspection information is taken over per asset and therefore matched one on one with the data from water-link.
In this way, in time, there will be no more duplicate or incorrect/obsolete data in use.
"We have defined KPIs to measure how well we manage our assets. We check these KPIs against the reports and dashboards that we get from the Suivo IoT web platform. By linking the different systems, we have a very reliable data source for analysis."
Dirk Hufkens, FLEET water-link
How it operates
All water-link assets receive a unique QR code, which can also be used by third parties. This way detailed inspection information per asset can easily be consulted with a smartphone. Employees of water-link can immediately see the status of an asset in the Suivo App. Including who did the last inspection on which date and consulting the legal inspection report of each asset separately.
Currently, inspected materials still have the typical ribbon with a certain color code that indicates the status. Once all assets are correctly linked, the ribbons can gradually disappear.
Safety first
Transparency about the inspection status of work equipment guarantees the safety of the Water-Link employees. On a human level, that is the biggest advantage of this thorough Asset Management. All types of material are defined, but also all processes, and for each asset a responsible person is designated. This way of working allows quick action to be taken if necessary, and material to be handled in a sustainable way. Thanks to the unambiguous centralization of data, efficiency increases enormously, also at administrative level.
Cost savings
By linking the database of water-link and MyVinçotte via an API with the Suivo IoT Cloud Platform, a lot of costs are saved. Much less administration, more accurate inspections, more accurate management of rejected assets, etc. Material damage can also be easily registered via the Suivo App. Employees are expected to take more care of 'their' material through this transparency. That sense of responsibility is Asset Management in its purest form.
"Our new way of cooperating with Vinçotte offers considerable added value. Linking the systems ensures a safer and more sustainable use of our assets. We are very satisfied with the ROI of this strategic investment in digitization. It opens the door to explore other integrations with the Suivo platform. It makes it clear that there are connections possible with other applications. These are important steps to further modernize within water-link and further expand our digital ecosystem expand."
Dirk Hufkens, FLEET water-link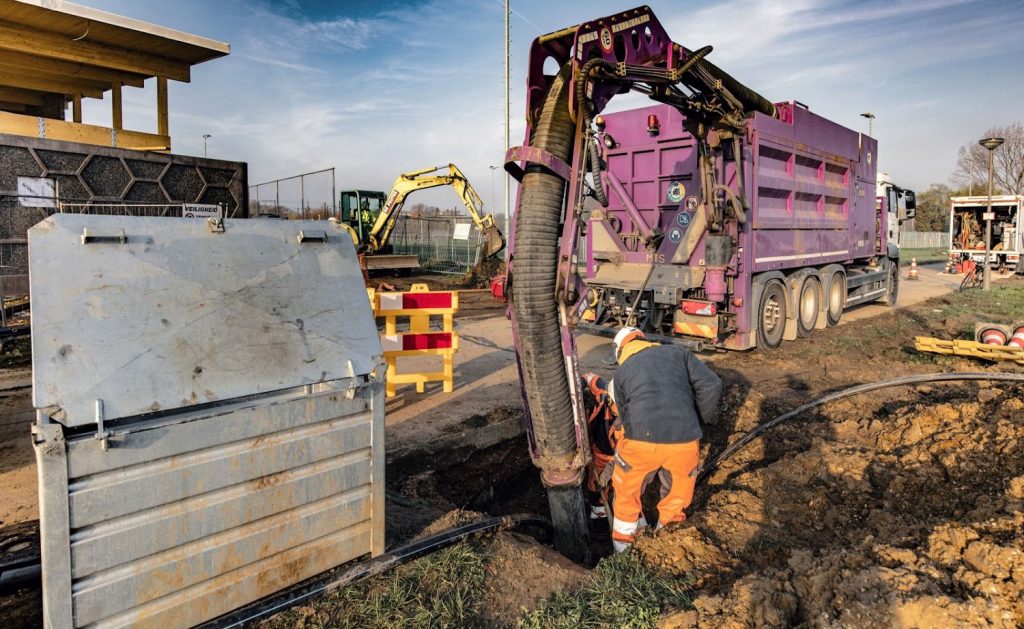 ABOUT WATER-LINK
The world cannot exist without water. People, companies and the environment must have access to water of the right quality, at the right time and in the right quantity at all times.
This water must be supplied within the security of well-designed supply and drainage infrastructures.
Water-link offers this security through the production, distribution and recycling of water. Water-link develops knowledge, shares it and works on innovative solutions to provide everyone and everything with water, always and safely. In this way, water-link wants to inspire everyone to really use the power of water.
More information about water-link: www.water-link.be
‍