What is CANbus?
CAN refers to 'Controller Area Network', and is the standard for serial data bus.
CANbus was developed by Bosch in the early 1980s and enables real-time 2-way communication.
The technology is being used in automotive, machinery, robots, ships, home automation, elevators, etc… and is resistant to electromagnetic interference and therefore has a high reliability.
Since 2001 CANbus is mandatory on every vehicle in the EU on petrol; and since 2004 also on diesels.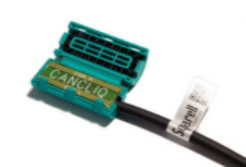 What is the CANbus used for in vehicles?
CANbus provides central communication between all onboard systems and receives commands from controls.
CANbus contains useful information that can be read by external systems such as the Suivo system, without interruption.
Which data of the CANbus can be captured?
Via the Squarell module with "CANcliQ" and a 'clamp' that is connected to the Suivo Extended/Premium tracker we can read out the following data:
Mileage
Running hours
Fuel consumption
Fuel level
Driving behavior (excessive acceleration, braking, high revs, cruise, idling time etc…)
Other data depending on the type of vehicle
Small side notes:
The CAN data in Suivo is not realtime; it is collected at the end of each trip.
For the time being data like battery level or battery consumption of electric vehicles are not available.
When you additionally activate the Suivo Eco Drive module, this results in even more precise data.

What is a tachograph?
The word "tachograph" comes from Ancient Greek, where 'tachys' refers to speed and 'graphein' to writing. So it refers to an instrument to record driving speed and driving times.
The first tachograph dates back to the 1970s and had an analog disk.
A digital version was released at the beginning of this century.
Since 2006, a digital tachograph has been compulsory in every truck (3.5 tons and more) or bus (9 persons and more).
The device works with a company card and driver card.
Why should tachograph data be monitored?
The purpose of the tacho is to provide insights into the speed, distance travelled and driving and rest times so that the risk of fraud is eliminated (or at least limited).
It is a way to improve and secure the working conditions of bus and truck drivers.
The data from the tacho must be kept on a digital carrier for at least one year.
The tachograph itself stores all these data in the mass memory, which must be read out every 90 days.
The individual driver data is stored on the driver card. Even if there is no driver card in the tachograph, the data is not lost because it is stored in the mass memory.
Why also have a driver card?
The driver card data contains the same information as the mass storage device, but is linked to the driver.
It gives you insight into driving times, breaks, loading and unloading, etc.
So if the vehicle is driven without a card (which is actually a criminal offence), the data is not stored on the driver card, but still in mass storage.
The driver card must be read every 28 days.
What is a smart tachograph and a smart tachograph v2?
Since June 2019, a "smart tachograph" is mandatory in every new truck or bus in the EU.
This is remote readable by authorities via a wireless signal, also while driving and includes geo localization.
If you want to have the smart tach read by a party such as (for example) Suivo, then within the framework of the GDPR, the driver has to give (one-time) permission to do so.
In the meantime, a second version of the smart tacho was developed. The use of the smart tacho version 2 will be mandatory in each new vehicle starting from August 2023.
(Not new) vehicles used for international driving must compulsorily install a tachograph version 2 by December 31, 2024. Analogue tachographs or digital tachographs of the first generation may no longer be used from then on.
(Not new) vehicles already equipped with a smart tacho must nevertheless also make the mandatory switch to a smart tacho version 2 in August 2025.
Since February 2, 2022, it is mandatory in the EU to record border crossings. Up until now, this has mostly been done manually. The driver has to pull over at the nearest possible stop across the border. The smart tacho version 2 does this registration automatically.
What can a smart tachograph version 2 do?
In addition to detecting and automatically recording border crossings, the latest tacho offers other improvements:
Recording of GNNS position during loading and unloading.
The driver card only needs to be read every 56 days (instead of every 28 days).
Recording of the type of transport (passengers or goods?).
Internal motion sensor in the vehicle unit.
Automatic registration of start and end locations.
How is tacho data read and which data is involved?
Reading of tacho data WITHOUT Suivo:
The data from the tacho is read via a USB stick and this implies a manual physical operation per vehicle.
The driver card must be read via a card reader that is connected to a PC.
Reading can also be done via bluetooth. However, you will then need a mobile device with software near the vehicle.
Reading is also possible via WiFi, but the vehicle must also be close to your WiFi network.
Reading of tacho data WITH Suivo?
If you use Suivo, your tacho data is automatically read every day, regardless of the location of the vehicle. This is possible thanks to the connection of the Suivo Blackbox.
What can we show in the Suivo IoT Cloud Platform?
Statuses of your vehicles and / or drivers: REST / DRIVE / WORK / UNLOAD
Identification by driver card number
What is Remote Tacho Download?
Sometimes it is as simple as it sounds: it concerns the remote reading of data on your tachograph. If you do this via the Suivo technology, this is made possible thanks to specially developed software that is installed on your local PC or server.
The application is linked to a USB smart card reader for authentication.
The ".ddd" files are downloaded and stored locally at the (server of the) customer. Note a retention obligation of at least 1 year applies.
To use this technology, you will need to purchase the budget-friendly Suivo Remote Tacho Download license.
Remote Tacho Download only works for digital tacho's.

How works Suivo Remote Tacho Download with Carbon CANbus module and what are some benefits?
Our Carbon hardware can connect directly to Siemens VDO and Stoneridge digital tachographs to read out real-time driver card information, and to accommodate remote mass storage and driver card memory downloads. A Suivo Tacho Download application is installed on your computer to manage the downloads, and store the data on your computer. Driver names of both driver cards and working time warnings from the tachograph are shown in real-time on the Suivo IoT Cloud Platform. The tacho identifications with driver cards can also be used for Suivo person-based reports.
The Suivo CANbus interface makes a contactless connection to the vehicle's data network to read out information such as fuel usage and engine parameters. The Suivo CANbus interface also connects directly to the digital tachograph to read out real-time driver card information (name and working hours) and to accommodate remote download of tachograph mass storage data and driver card memory. This interface allows Suivo to give you an accurate view on real vehicle fuel consumption and engine usage. On the web application and reports you will get statistics regarding cruise control usage, excessive RPM, as well as fuel used during idling. The vehicle's odometer and fuel level are also displayed in real-time on the Suivo Live Tracking views.
What is the Driver Awareness Panel?
The Driver Awareness Panel (DAP) connects to the Suivo Carbon tracker to make drivers aware of their driving style. It's an "on the job" assistance tool to save fuel and achieve direct results. DAP actively and continuously monitors the vehicle CANbus and analyzes the CANbus data. The DAP calculates and compares the data against fleet and vehicle performance standards. The DAP signals any good or bad driving behavior during the trip. This method makes the driver aware of his driving style and stimulates him to act accordingly. Various algorithms are implemented like harsh driving and braking, high RPM and anticipated driving.
How to enhance your ecoscore?
Another way to monitor driving behavior is using the Suivo Eco Drive app. The app provides you with an ecoscore and enables you to gain insights in how environmentally friendly…
your fleet is (related to the tech specs of the vehicle(s))
and driving behavior is (related to the driver)
Read more on the Suivo Eco Drive app.